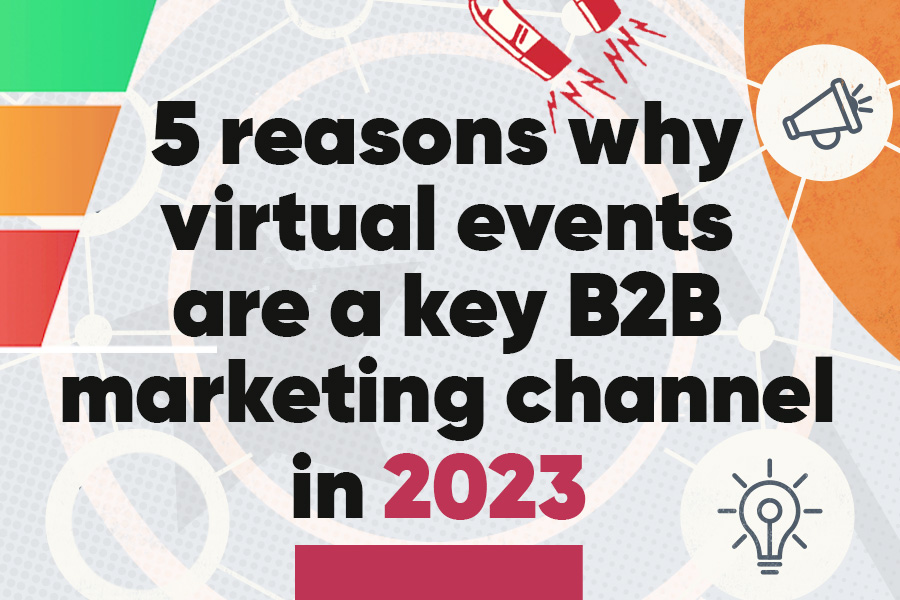 Virtual Events are a crucial B2B marketing channel in 2023...
From webinars to annual summits, TEN80 are committed to helping marketing teams deliver high quality virtual events. We offer event strategy, promotion, content creation and live production.
Do not bore your target audience - instead get a reputation for inspiring! The key is to focus on the attendee experience while delivering engaging content using high production values.
Use online events to entertain, differentiate, drive leads and build community!
---
5 reasons to get excited..
---
Virtual events make use of the most effective medium - video. Your event can be produced and streamed live. Or otherwise pre-filmed, edited then streamed live.

Automated tools allow you to drive attendance to your online events using your existing marketing channels, while ensuring a smooth registration process for attendees.

Virtual events are a two-way marketing channel: You can connect with your CRM, entice audience interaction, obtain analytics and drive follow-ups.

By hosting a virtual event you will acquire new video content which you can splice and dice to support your ongoing marketing efforts across all channels. Bang for buck!

By using your senior team on camera, virtual events are the perfect medium for delivering thought leadership, promoting product and building community around your brand.

---
And if you're planning on using Virtual Events as part of your B2B marketing in 2023 here's some extra food for thought..
Strategy > From lead generation to product promotion to community building.. how will you use this dynamic marketing channel within your mix? For those who need a hand TEN80 advise on how virtual events can deliver on your marketing objectives. We cover everything from CRM integration, channel marketing, platform set up, agenda building, content creation, A/V production and engagement analytics.
Promotion & Creative > You'll want your target audience to register in numbers so how will you brand your event and how will you describe its value? Which channels will you use to drive your targets to register and attend? TEN80 provide branding, landing page construction and channel-optimised event marketing banners and graphics.
Registration & Attendance > TEN80 will automate the event registration process ensuring a seamless experience for your event attendees, while reducing your admin load. Your audience need to receive the right emails and prompts at the right time! This is key to driving attendance rates.
Content > We can help you build the agenda, describe sessions and create speaker profiles. We can produce content for your event including video destined for playback during a live mix. Where required we're happy to work with your speakers on their presentations - with storytelling and audience engagement top of mind.
Production > Our fully-mobile in-house A/V Production Crew are ready to turn up and produce live. In advance we'll spec the set up - cameras, audio, lighting, grip, and streaming desk. In the case of a hybrid event we can deliver to an in-person audience and virtual audience simultaneously. TEN80 will act as Producers on the day of your event. This includes directing live speakers, virtual event platform monitoring and making everything run smoothly.
Post-Event > In the case of larger in-person events, there's an opportunity to film break out interviews featuring customers, attendees and partners. You may also require a wrap/buzz style montage of the event. TEN80 offer video post-production and the optimisation of video clips for social. We can also help with event analytics around engagement and leads, and help with post-event follow-up / communications if required.
---
TEN80 bring professional production values to virtual event experiences, and help our customers use virtual event platforms effectively for lead gen and community building. Here's Dave talking Virtual Events at Event Tech Live >
If you're planning on using virtual events as part of your B2B marketing strategy in 2023, get in touch! We're always happy to chat...
Posted on Dec 31, 2022