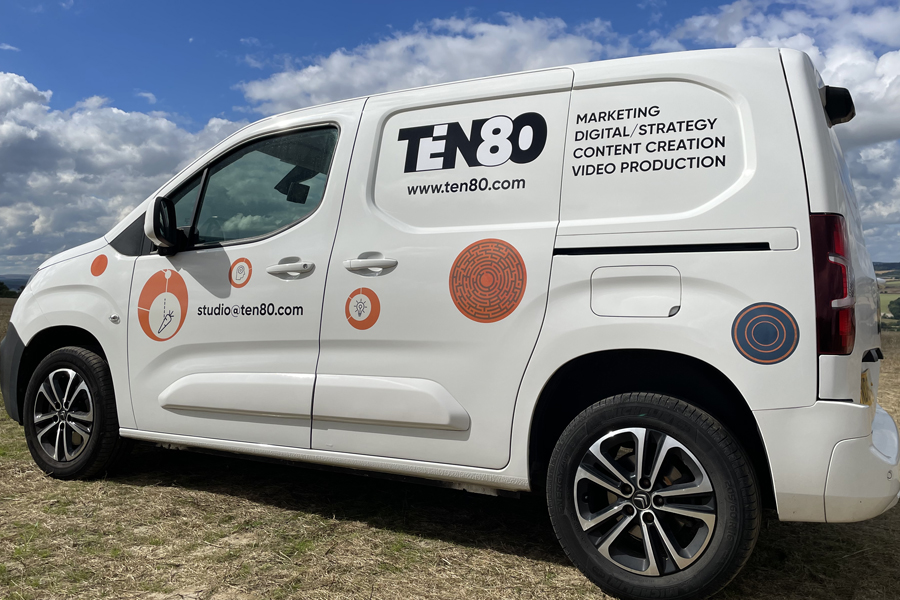 Brand Livery : Vinyl is Back!
A liveried vehicle fleet provides crucial brand exposure and carries your messaging far and wide. At TEN80 we love designing liveries, from wireframe concept to execution..
Design >
We begin with a wireframe of the exact make & model of vehicle. It's important to begin the design process with a pixel-perfect representation of the dimensions, panel lines and contours of the vehicle in question. The wireframe is the designer's blank canvas..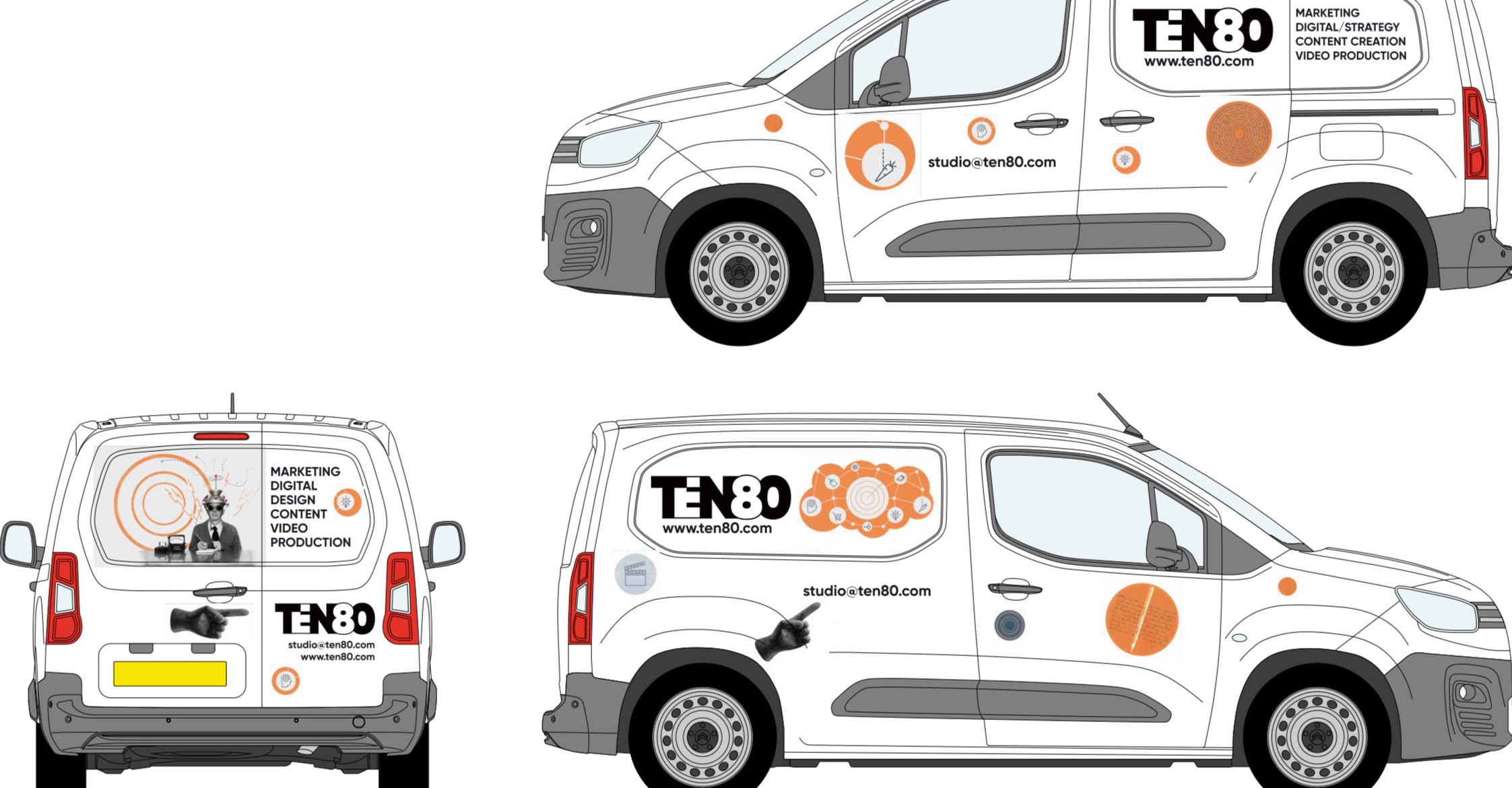 We always reccomend a design which respects the panels and contours of the vehicle. Of course it's tempting to let rip creatively, especially given that 'wrapping' allows for full vehicle coverage, but there are important technical and aesthetic considerations when adopting this approach.
When it comes to vehicle livery, you'll see plenty of 'design fails' travelling on our roads and highways. The classic is text which crops, or reads poorly when words or phrases are applied across more than one panel. However it's crucial to get the design right as your vehicles provide a very public face to your brand..
Branding >
Most of the rules which apply to livery design are those which underpin any application of your brand. Unless you're branding from scratch, the use of logos, straplines and typefaces will no doubt already be detailed within your guidelines. This is a good starting point.
You'll then want to consider if you wish to use this opportunity to communicate or convey any specific brand messaging. There's always the question of how much you should try to communicate. Unless your brand already enjoys 100% awareness, you should describe broadly what your company does or who it serves, in as distilled way as possible. Should you go into detail about what you offer? No, but you can try drive traffic to your website. Include your company web address (or use a QR code) but only include a contact email address and telephone number if you feel you're likely to generate the right kind of enquiry, and are prepared to respond.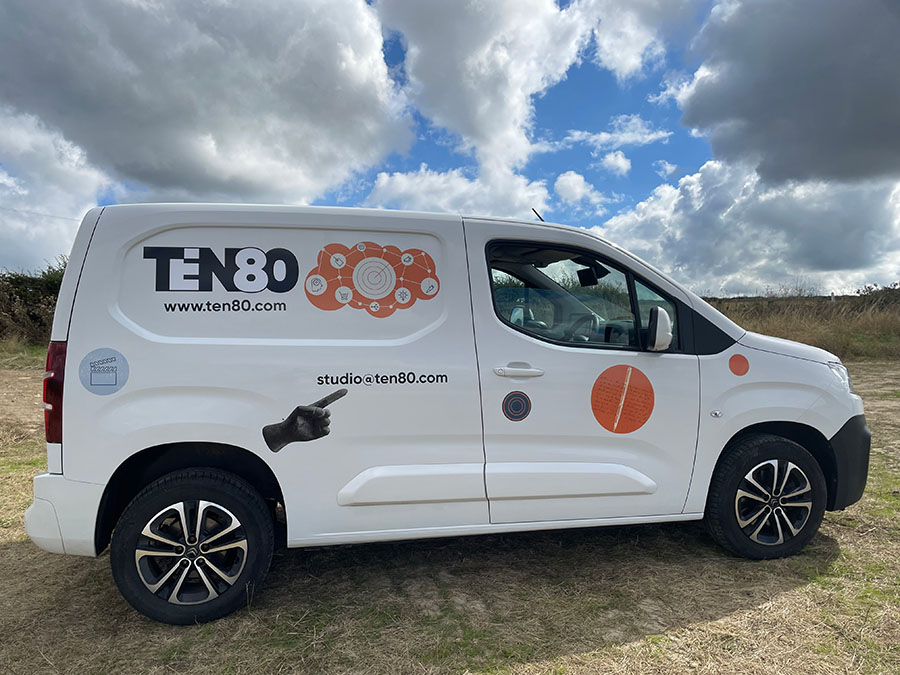 A good livery is one which is attractive while managing to communicate something of your brand, but an excellent livery might resonate on a deeper level. You may choose to include messaging which is warm, ironic, amusing.. and so on. Some brands use liveries which make clever contextual reference to 'delivering' for example, or messaging which suggest the brand is 'everywhere'. Being playful and adding humour is also a nice tactic, as long as it fits with your brand's voice.
Cost effective advertising >
Independent research suggests that the average vehicle will be seen up to 3000 times per day while journeying. Obviously this is a loose & lazy basis on which to calculate bang-for-buck marketing spend, but when comparing with the cost of buying 'impressions' across other forms of media - paid search, social, display etc - then vehicle branding proves extremely cost efficient.
When livery is well designed and applied properly it will look good for 5 years. In marketing terms this is really about delivering a significant amount of brand awareness over a significant amount of time. Therefore the design and application of your livery is certainly something to be managed correctly and creatively..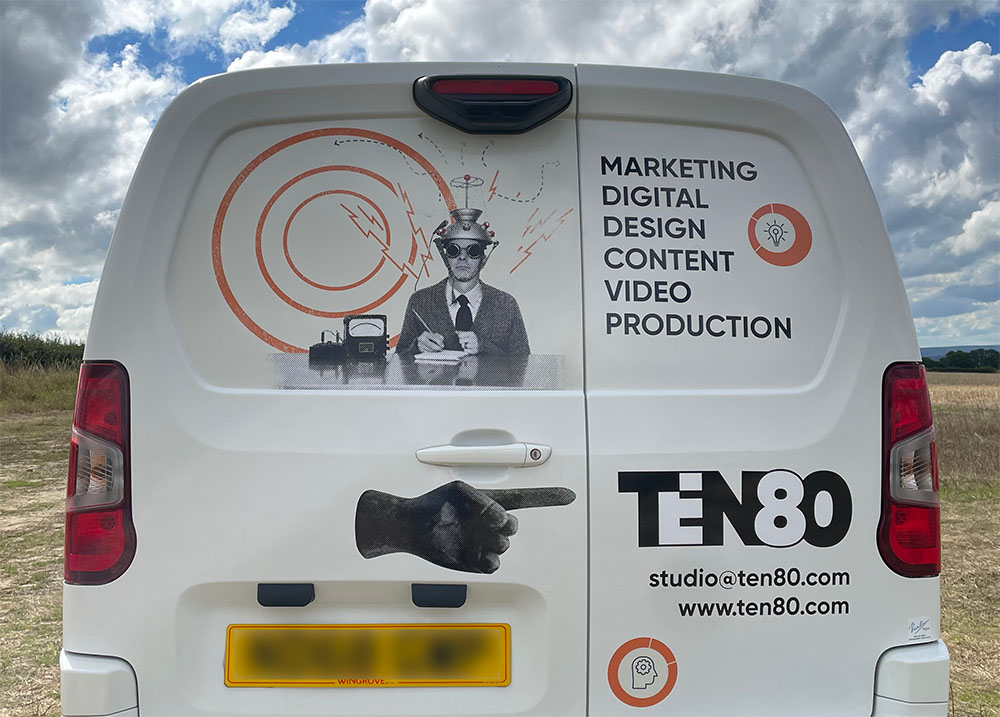 TEN80 design and manage the application of vehicle livery. Do you have a project you need help with? Simply fill out this form and we'll get back to you..
Posted on Sep 01, 2022