TEN80 help you deliver high quality virtual and hybrid events.
We provide event platforming, content creation and live production.
The key to hosting successful events is to focus on the attendee experience. This means producing and streaming engaging video content using professional production values.
Whether you're delivering thought leadership, product launches, awards, conferences, training, exhibitions, partner programs, webinars or annual summits, TEN80 are your trusted event production partner...
SUPPORT

for MARKETING Teams...
TEN80 partner with all the leading virtual event platforms and we'll work with you to connect your CRM, drive registrations, stream engaging content, entice interaction and obtain data - helping you achieve all your event marketing goals..
SET UP >
We can set up your event dashboard, manage the attendee registration process, brand your event, build your agenda, describe sessions, write speaker profiles and create the experience. TEN80 work with a range of virtual event and video engagement platforms - contact us for details.
PROMOTION >
You'll wish to use your existing marketing channels to drive your target audience to attend your virtual / hybrid event. TEN80 produce landing pages and banners optimised for each of your marketing channels, ensuring your branded event attracts your target audience.
COMMUNICATION >
Experience tells us that delivering the right emails/prompts at the right time is crucial to attendance rates. TEN80 will automate the event registration process ensuring a seamless experience for your event attendees. We can help and advise on event communications pre and post-event, regardless of whether you event is live or available on-demand.
CONTENT >
TEN80 produce highly engaging content for events including pre-recorded video designed for playback during a live mix. We are happy to work with your speakers on their presentations - with quality, duration and impact all top of mind. You can use us to create a running order and direct on-camera presenters on the day of production - recorded or live.

EVENT PRODUCTION
You're in good hands! With a combined century of experience of event production, our crew of camera ops, sound engineers and video technicians will ensure your audience enjoys the best A/V experience - whether they are in the room or watching on a device.

MULTI-CAMERA PRODUCTION
Our fully-mobile in-house production crew can install at venues or build temporary studios in offices. We recce the event location in advance, check network connectivity, specify camera, audio, lighting, grip, and prepare streaming set ups. TEN80 will act as producers on the day, including directing live speakers, filming, live-mixing, recording, platform monitoring and delivering quality A/V to the room.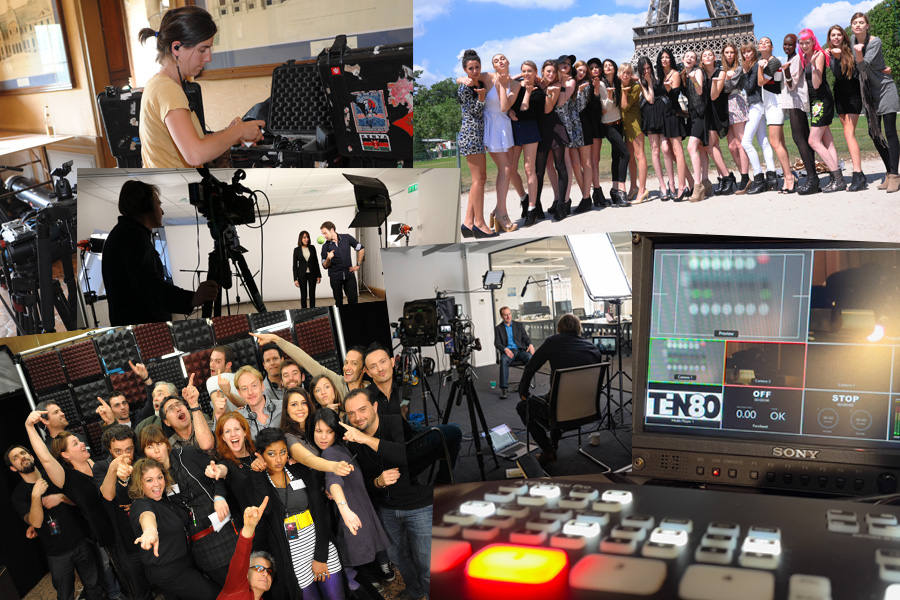 STREAMING
In the case of live events, we'll work with your chosen virtual event platform to ensure an excellent experience for virtual attendees. Our on-site crew is made up of experienced broadcast professionals, used to managing live camera feeds, audio desks, live switching, real-time encoding, monitoring and recording. Of course we can stream to supported social media platforms (simultaneously) including YouTube, Twitch and Instagram. We will work with you to integrate the feed, so that your audiences watching via these channels enjoy a seamless experience.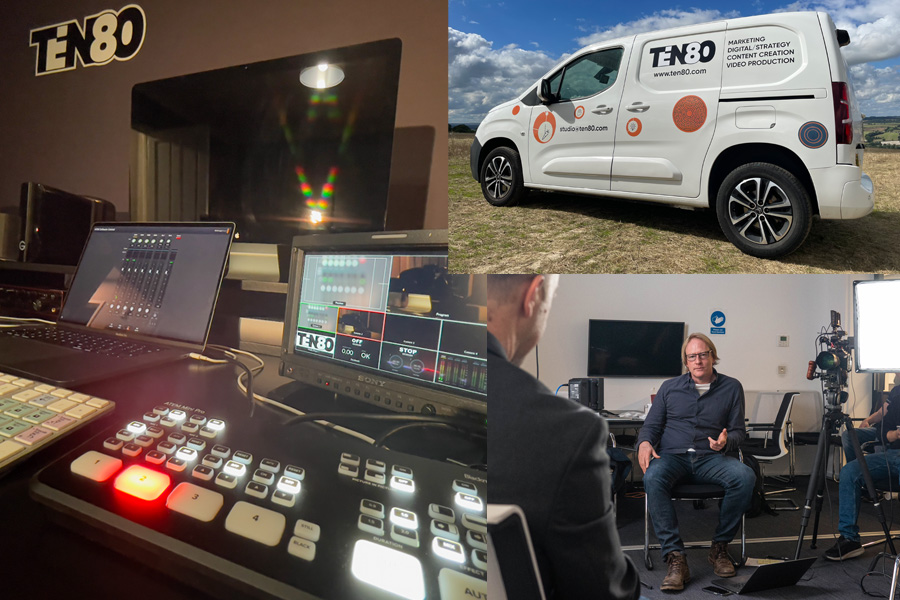 POST PRODUCTION
By hosting an event you will acquire new video content which we can splice and dice to support your ongoing marketing activity across all your video-supporting marketing channels. Bang for buck content! Our team produces fast-turnaround edits for social, optimised for each platform. In the case of larger in-person events, there's an opportunity to film break-out interviews featuring customers, attendees and partners. You may require a buzz/highlights cut featuring vox pops, speakers and selected event content. TEN80 offer full studio and remote post-production services including editing, motion design, grading. and sound mixing.